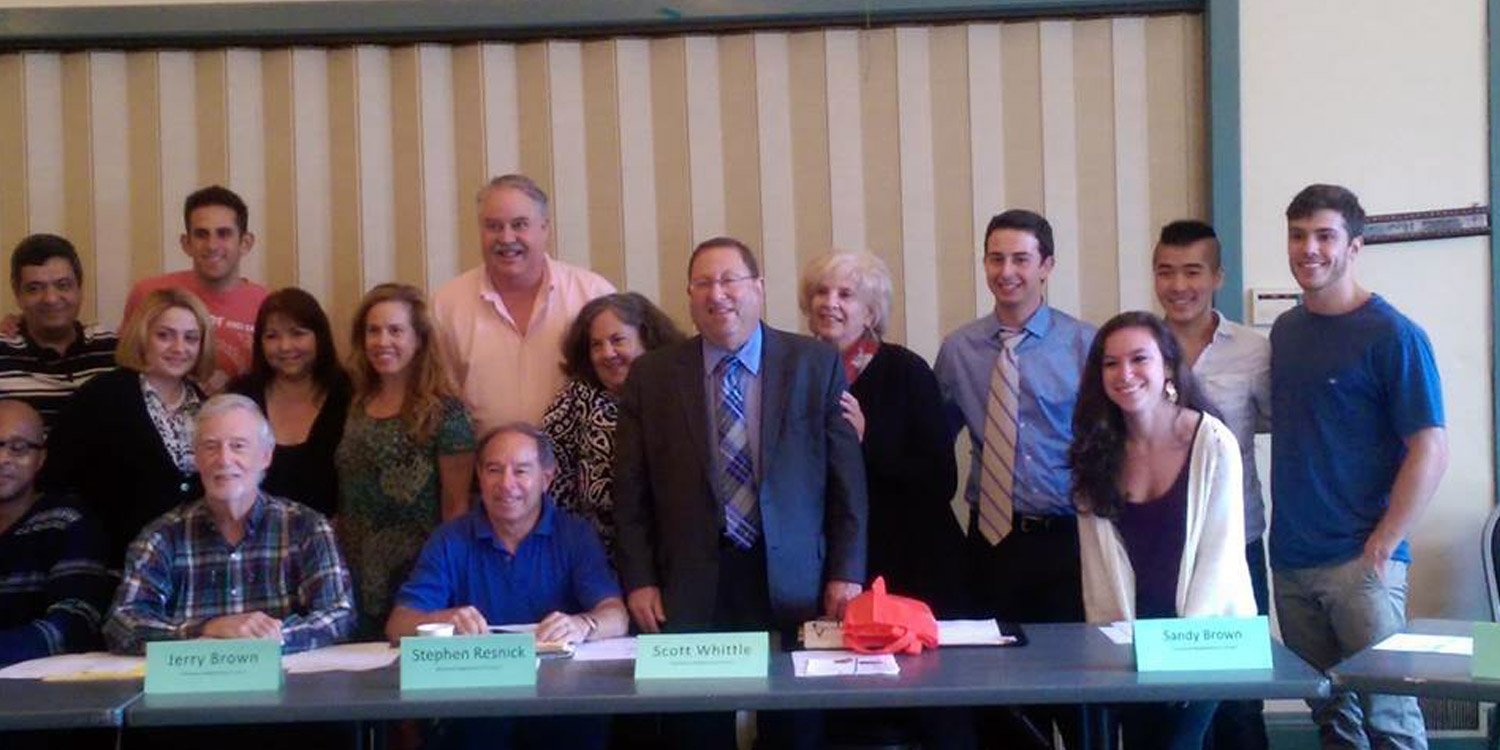 February 2014 WWNC Newsletter
Hello Westwood Neighborhood Council Stakeholders,
2013 was a busy year for Westwood, and for the Westwood Neighborhood Council (WWNC)! We began 2013 as a newly elected council, having had our second round of elections in October 2012, and we were formerly seated on November 13, 2012. All of our 19 seats had been up for re-election and our voting turnout was the second highest in the entire Neighborhood Council system.
Our council is made up of a diverse group of goal-oriented individuals, all who have histories of serving our community in many varied areas. We have an executive committee made up of our president, vice president, secretary, and treasurer. We also have a land use Chair and committee, an outreach chair and committee, a public safety chair and committee, and traffic and transportation chair and committee. We also have a representative to the WRAC (Westside Regional Association of Councils), and to the DWP. Our committees are made up of board members and many stakeholders in the community. Anyone may ask to be a part of our committees and be more involved in our community activities. We welcome all stakeholders at our monthly board meetings held at the Westwood Presbyterian Church on Wilshire Blvd. We meet the second Wednesday of each month at 7:00 PM.
We have an active website at the following address: www.wwnc.org , and we encourage all stakeholders to become familiar with it. We receive many messages and requests from the community through our website, and do our best to resolve any issues that we can help with or steer people in the proper direction, if we can't assist with the inquiry.
Our council is very active in awarding community grants to deserving 501c3 organizations in our boundaries. Each year we give away grant money for wonderful projects to schools, community-building organizations, and other worthy non-profits. We feel it is extremely important to give back to these organizations that help make Westwood the amazing community that it is today. We are very proud of our efforts to get grant money where it is needed most.
We also work very closely with other community groups in Westwood, including the Westwood Community Council, the four Homeowner's groups, student organizations, non-profits, schools, and the Westwood Village Improvement Association.
In May of 2014, we will be undergoing elections again. All 19 seats will once again be up for election in the WWNC. The election is earlier this year, due to the city's decision to have all Neighborhood Councils be on the same election timeline. We have an elections banner and tab on our website's home page, so please visit and decide if you would like to run for a board seat or help with any election activities with our council. All of the details from Empower LA are listed there to assist you in your election plans, or answer any questions that you may have. We will also be electing an Elections chair at our Feb. 2014 meeting. We would be thankful for all stakeholders who would like to assist or run in the upcoming elections, and encourage you all to be involved!
Here is a small recap of our last year in office, so you may see a bit of what we do as a council, for our community.
November 2012: Our Neighborhood Purpose Grants (NPG's) were given out for the first of two rounds. We awarded grants to four outstanding 501c3 organizations, including Fairburn Ave. Elementary School, Friends of the Westwood Library, Emerson Middle School, and Warner Ave. Elementary School. We also motioned to save the existing trees in Westwood Village and to replace dying, older tress with mature trees.
February 2013: We approved a conditional use permit for a new Westwood Business, Veggie Grill. We also strongly opposed Target's application for a "public convenience or necessity" determination to sell liquor, as this application was over the legal limit of licenses, and there were four businesses within 150 feet of Target already selling liquor. We also agreed to co-sponsor the Mayoral Debate in Westwood in April at Sinai Temple. We also unanimously "opposed any bicycle, bus, or transit lanes on Westwood Blvd. and Sepulveda Blvd.".
March 2013: We supported permits for a new business, Sprout's, for selling beer and wine for off site consumption. Councilmember Mark Herd brought forth a motion to rescind a previous WWNC approval to support the use of Quimby funds to build an AYSO turf soccer filed at Westwood Park. The meeting was attended by over 60 stakeholders opposed to rescinding this motion as well as a majority of current board members. After much discussion, councilmember Herd withdrew his motion. We also approved supporting WOMP (Westwood Organized Mega Project) for $7500.00 to help buy supplies for painting, tree-planting, etc. , for beautification projects scheduled throughout Westwood for this annual event.
April 2013: It was announced that our former vice president and board member, Toni Gray passed away. We supported the "Live within it's means" mandate to the Los Angeles City Charter. We also awarded a second round of NPG grants to the following organizations, Fairburn Ave. Elementary School, Warner Ave. Elementary, Emerson Middle School, and Friends of the Westwood Library.
May 2013: As we had leftover grant money in our budget, we allotted an extra $587.00 to each awarded organization at our April meeting. A report was made about the Los Angeles Mayoral Debate, that was a huge success in April. The WWNC co-sponsored the debate at Sinai Temple. We received 650 RSVP's and over 450 people attended. We voted to give NPG grants away once per year, instead of twice, to be effective in the next year.
August 2013: WWNC's strategic plan was discussed, as well as ways to improve NC's. Angus Beverly was elected to chair the new Traffic and Transportation committee.
October 2013: The WWNC Strategic Plan was approved after submissions from board members and discussion at council. We look forward to more stakeholders becoming involved in our council, and we welcome all participation from the community. We continue to improve on outreach projects and look to have a higher profile in the next year.
Please contact us with any questions, concerns, or ideas. We are so proud of our Westwood community and know that it takes a village to make it all work, for all who live, work, and play here.uttermost